Once powerful party becomes an 'employment agency'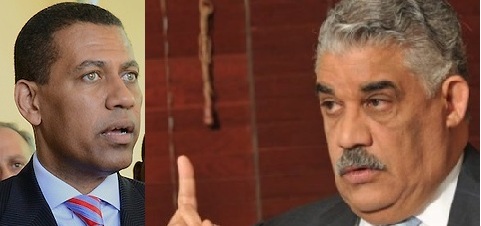 G. Gomez, M. Vargas.
Santo Domingo.- A senior leader of the pro-government PRD party on Mon. said that its president Miguel Vargas Maldonado, has turned it into an "employment agency'" and that on behalf of the organization, does great business for personal gain.
Guido Gómez Mazara, interviewed by Hoy, said everyone who jumps from another party and arrives at the PRD, does so because Vargas has designated them in a government post.
"There's no conviction, there's no commitment to society, in the PRD what predominates is money, taking advantage for profit and advantages, and putting aside the serious problems that affect the majority of Dominicans," he said.
He said it's "shameful" that a person like Vargas, who gets a 77 percent rejection at the polls, heads the PRD party, "doing in that organization what suits him personally."
"Vargas' interest in that the PRD continues to be a small party to continue doing great business on behalf of the organization," he said, and listed as an example the sale to the government of properties worth millions.
Gómez added that the PRD's rank-and-file does not feel represented with Vargas, who's the Foreign Affairs Minister.
The PRD has held the country's Presidency on four different occassions.