The country's premier mountain town pollutes the biggest river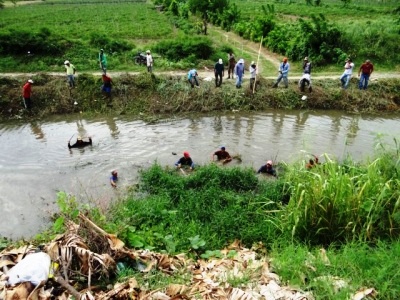 Jarabacoa, Dominican Republic.- The pollution of the ravines and the settlements that pop up seemingly overnight along the Yaque del Norte riverbanks continue unchecked, despite the Presidential Commission's plans to clean up its course.
As it meanders through the town in central La Vega province, the Yerba Buena stream enters the Yaque at three points.
Shanty towns such as Rivera del Yaque, El Bolsillo and Barrio Lindo, most of whose dwellings are built less than the 30 meters as environmental regulations stipulate.
The tributaries contaminated by garbage, plastic and even feces end up in sectors such as La Posa and Pinar Quemado.
In neighborhoods such as Rivera del Yaque, some families decided to fence in land, in the middle of the river to raise goats.
Complaints
"The truth is that the pollution that goes to the Yaque River comes from the ravines that we have and that no authority has done anything to clean them up," says Rafael Hernández, a resident of Rivera del Yaque, quoted by El Caribe.
Representatives from agencies such as the Jarabacoa Support Council have raised concern on the need to build a sewage system, because it goes untreated.
In that regard, Jarabacoa mayor, Carlos José Sánchez Pineda, has acknowledged repeatedly that pollution directly affects the population, including the town of Baitoa and the cities of Santiago and Montecristi.
A study of the Yaque del Norte's watersheds and tributaries calls for work to plant trees in the upper basin of the country's longest river.