Espaillat gets kudos on efforts for immigrant families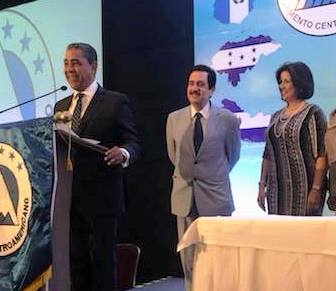 Adriano Espaillat, at Parlacen
Press Release
New York. – Today, Representative Adriano Espaillat (NY-13) was recognized by the Central American Parliament (Parlacen) for his efforts protecting the rights of immigrants from Central America and the Caribbean in the United States and his efforts to ensure children's welfare and women's rights.
"It is an honor for me to receive this significant recognition from Parlacen for my efforts to defend immigrants, many of whom come to the United States in search of a better life for themselves and their families," said Rep. Adriano Espaillat (NY-13).  "During a time when my office is currently focused on the family reunification of immigrants separated by the policies put forth by the Trump administration, this recognition from the Parlacen reinforces our work and commitment to defend the rights of immigrants, champion women's rights, and ensure success and achievement for our children and young people."
The Parlacen is a political institution dedicated to the integration of the countries of Central America.  Earlier this week, the Central Forums of the Central American Parliament were inaugurated in Santo Domingo, with the representation of the six states that make up the Parlacen and include:  Guatemala, Nicaragua, El Salvador, Honduras, Panama and the Dominican Republic.
Rep. Espaillat was honored by the Parlacen for his work in Washington and New York's 13th congressional district during the Women's Forum held earlier today.