After scathing critique, Environment chief to protect National Park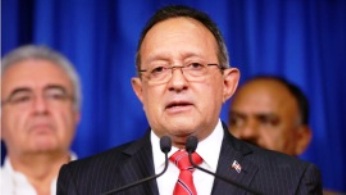 A. Estevez. File.
Pedernales, Dominican Republic.-  Environment  minister Ángel Estévez on Tues. said that he looks for measures together with other entities to guarantee the protection of Sierra de Bahoruco National Park (southwest).
After a tour accompanied by several environmentalists from Pedernales and other regions, the official said the next step will be to draw a line of action to respect the Park "with full respect for human dignity."
Estévez's statement comes just days after scathing critique over his foot-dragging to halt illegal farming in Bahoruco's southeastern slope, in which a brother of president Danilo Medina is allegedly involved.
Accompanied by Ministry technicians Yolanda León president of the conservationist group, Grupo Jaragua, the official said the measures to be taken will result from agreements with the environmentalists who've worked in the protected area for years.
"The protection of natural resources is not the Ministry's task alone, that's why we want to integrate society, and especially the actors linked to the issue."