Attacks push Puerto Plata's once mighty river to the brink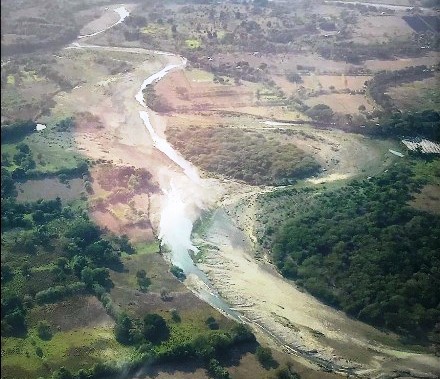 Puerto Plata.- The Bajabonico river, one of the most important water sources of the province, could vanish as a result of a prolonged dry season and the widespread extraction of tons of aggregates.
Aerial photos of the Bajabonico taken by Santiago mogul Fernando Capellán show the tributary's ravaged channel, which, according to historical accounts, was navigable during colonial times.
"We recommend that the most logical thing is to reforest the northern mountain range," tweeted the CEO of Grupo M.
He warned that the drastic decrease in the river's flow has been intensifying in recent years due to the felling of trees throughout its watershed.
In addition to illegal lumbering, there are reports that two aggregates companies extract materials illegally in the town of Saballo.
"The environment damage and the prolonged drought in the region are the main causes that have pushed the once mighty Bajabonico to the verge of extinction," local media report.
"The farmers and ranchers of the municipality of Luperón and surrounding communities, are frightened by the low flow of the Bajabonico river, which has significantly decreased production in this area," said the journalist Fausto Morrobel.