Dominican Republic rejects military option in Venezuela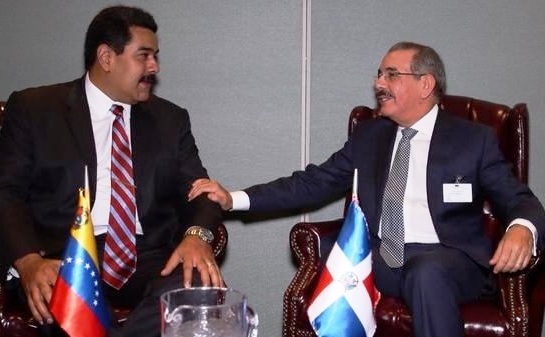 Presidents Nicolas Maduro, Danilo Medina.
Santo Domingo.- The Dominican Republic rejects a possible intervention in Venezuela as a mechanism to solve the crisis that is pounding that country, Foreign minister, Miguel Vargas affirmed Tues.
"Everything that is military intervention from one country to another is a violation of the sovereignty of that country and we were victims, in 1965, of an American military intervention," he said.
The official said Dominican Republic's history is such that it couldn't easily agree with that potential option. "We reject and rule out any type of intervention in the search for peace and stability in Venezuela."
Vargas said that's why the Dominican Republic played a mediating role in the talks between the Venezuelan government and the opposition in order to seek a peaceful and durable solution to the crisis.
He said president Danilo Medina made a great effort to achieve an agreement for Venezuela, but wasn't possible due to Caracas' "intransigence and the divided opposition.
"President Danilo Medina participated actively in all the meetings we had here and we were on the verge of achieving it, but there were very intransigent positions on the part of the government and also a fragmentation of the opposition that prevented reaching a favorable agreement in that direction, but we advance to incredible levels in terms of agreement," Vargas added.
Warning
Organization of American States (OAS) secretary general Luis Almagro recently warned that the possibility of a military intervention in Venezuela hasn't been ruled out.