Medina at the UN; Dominican hecklers target top diplomat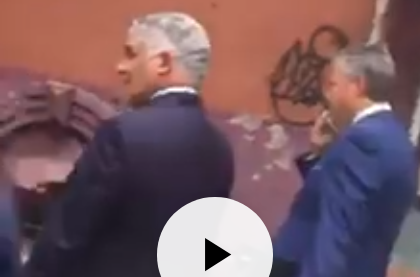 Video shows M. Vargas scurrying away from the hecklers
New York.- Foreign minister Miguel Vargas was targeted by a group of Dominican hecklers in a street in Lower Manhattan on Mon., near the United Nations building, where president Danilo Medina met with Donald Trump and representatives from 30 other countries to coordinate the fight on drug trafficking.
"Thief, traitor, charlatan," the protesters waving Dominican flags shouted at Vargas and his entourage of around 10 officials, in a video that has gone viral.
The protesters then gathered in front of a restaurant on 45th St. and 2nd Av., where Vargas and his entourage had entered.
Medina
In a statement, the Govt. said that the meeting forms part of the high-level debate of the 73rd General Assembly. "The 32 countries signed the political declaration adopted at the meeting on "The World Drug Problem which will allow more forceful actions in the fight against drug trafficking."
"Drugs and addiction are not abstract issues. We all have stories. We must all know that he can touch us at any time. We have to act and do it now," said UN Secretary General, Antonio Guterres during the high-level meeting,
Meanwhile the Government labeled Medina's attendance at the Assembly "a milestone, because it is the first time he has attended since the Dominican Republic was chosen as a non-permanent member of the UN Security Council last June."