Party colleagues say Foreign Minister plays footsy with funds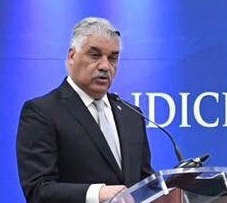 M. Vargas. File
Santo Domingo.- A group of leaders of the pro-government PRD party on Tues. filed before the Anticorruption Prosecutor (Pepca) a request to investigate Miguel Vargas' tenure in the Foreign Ministry.
In their request the group headed by the PRD leaders Guido Gómez Mazara, Tonty Rutinel, Melania Salvador, Ruddy Gonzalez, Francisco Fernandez and Andres Henriquez says the Foreign Ministry payroll pays salaries to party cronies who don't do any work.
They affirmed that Vargas pays to eliminate internal competition within the PRD and to influence future candidates on selection days.
The group said four months ago they sent a letter to president Danilo Medina, warning of the harm of paying funds to political leaders to support Vargas' bid for the presidency.
Gomez said their letter is based on a report by journalist Alicia Ortega, which they say discovered messengers with salaries as high as RD$90,000, former pensioners with contracts of RD$150,000, and designated consulate officials who've never left the country.