Medina warns the UN on main global threats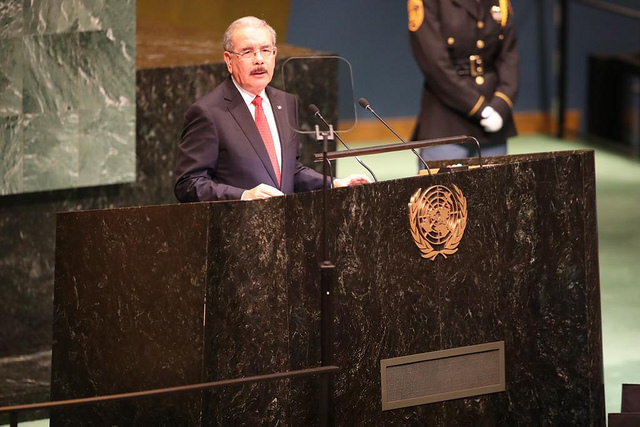 United Nations.- President Danilo Medina on Tues. said climate change, drug trafficking and organized crime are the main threats to stability and global security.
Medina, who spoke at the UN's 73rd General Assembly, said that those problems are so complex and global that makes them two of the main challenges facing the United Nations and humanity.
"In both cases, the consequences are thousands of families destroyed, collateral damage on all aspects of human development and states overwhelmed by the magnitude of the challenge they must face," he said.
On natural disasters Medina said they're occurring more and more frequently, "we just have to open a newspaper, or turn on the TV to find the effects of climate change wreaking havoc at one point or another of the planet."
He cited the damages caused by natural phenomena in the region and other parts of the world and affirmed that the Dominican Republic is strongly committed to face the consequences of climate change at all levels.
"However, the fight against climate change is everyone's task and that is why this last scenario, the broadest and largest of the three, is the international scenario. A space in which, if there is no political will, most of the efforts lead to nothing and negatively affect all that we advance at the local and national level," he said.
"That is why I again reiterate here before this Assembly, the importance of going beyond good intentions and focusing on concrete actions."