The US again slams Dominican Republic for ties with Taiwan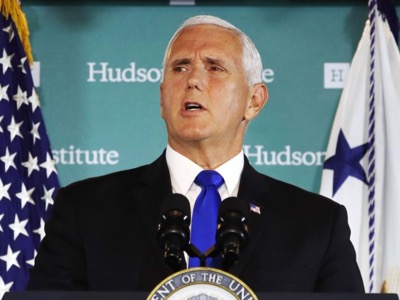 Mike Pence. Photo Voltairenet-org
Washington.- U.S. Vice President Mike Pence on Thursday accused China for hurling "a life-jacket" of credits for crude to Venezuelan president, Nicolás Maduro, and slammed Panamá, Dominican Republic and El Salvador for severing their ties with Taiwan.
It's the second time that Washington assails the Caribbean Nation in as many months, the first by the U.S. State Dept. when El Savador also severed ties with Taiwan in August.
Pence said Beijing's measures are threatening stability across the Taiwan Strait and accused China of resorting to economic aggression to extend its global reach.
Speaking at the Hudson Institute on U.S. policy toward China, Pence alleged that Beijing has been using so called "debt diplomacy" to expand its influence across the world.
He noted that since last year alone, Beijing has convinced three Latin American nations to cut ties with Taipei and recognize China. "These actions threaten the stability of the Taiwan Strait, and the United States of America condemns these actions."
Taiwan has lost five diplomatic allies to China since President Tsai Ing-wen took office in May 2016, including Panama in June 2017, the Dominican Republic in May this year, and most recently, El Salvador in August.
This has led to a sharp drop to 17 the number of countries that recognize Taipei instead of Beijing.