Doctors' sequester is latest in a history of border incidents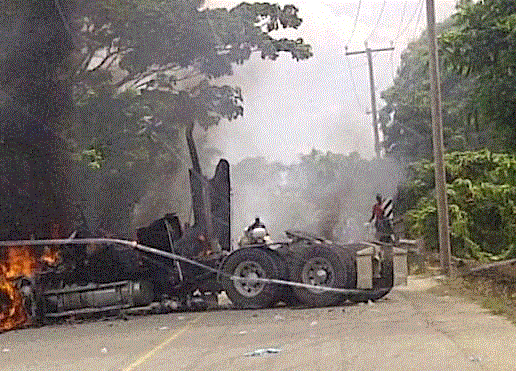 Dominican truckers are often kidnapped, their rigs looted and torched
Santo Domingo.- The retention of seven doctors and 10 other Dominicans by a mob of Haitians has sparked reactions even from the US Embassy, ​​which urged its citizens and officials to avoid land travel to Haiti from the Dominican Republic.
Last Saturday a group of Haitians wielding machetes and knives abducted a prominent surgeon and his group riding motorcycles along the border
The mob released them two-and-a-half hours later unharmed and helped by Dominicans in the area.
"We are used to going out on motorcycles to do internal tourism and we had decided to tour the International highway," said group spokesman Dr. Pedro Ureña.
Locals
The area inhabitants said that type of situation "occurs frequently" in the zone, which they affirm the authorities fail to control.