Espaillat to honor Tuskegee Airmen in ceremony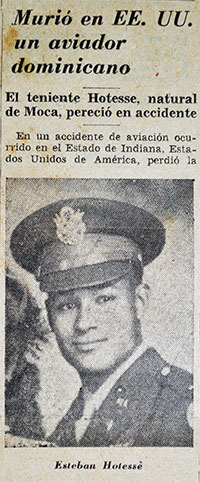 Stephen Hotesse, Dominican Tuskegee.
Washington D.C. – Representative Adriano Espaillat (NY-13) will host a post office renaming ceremony in honor of the Tuskegee Airmen on Monday, November 19th from 11:00 a.m. to 12:00 p.m. at the United States Post Office (USPS) facility located at 99 Macombs Place in New York, which will be renamed as the "Tuskegee Airmen Post Office Building" following passage of Rep. Espaillat's bill, H.R. 4406<https://www.congress.gov/115/bills/hr4406/BILLS-115hr4406enr.pdf>, which was signed into law earlier this year.
"The Tuskegee Airmen was a popular name given to the first all-black squadron activated into service by the U.S. Army Air Corps in 1941 during the peak of World War II. They were known for breaking racial barriers in the military and were active in fighting against Jim Crow laws in the South. Renaming this post office facility after the Tuskegee Airmen is a fitting tribute to honor their memory and contributions to this country, and I am honored to have passed legislation that was signed into law to help bring this event to fruition," concluded Rep. Adriano Espaillat (NY-13).
This event is open to the public and press.