Botched plane heist in NE nets 3 military, 4 civilians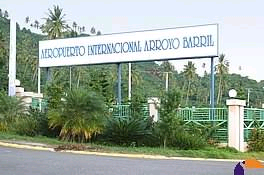 Santo Domingo.- Three members of the military, including a Navy captain (colonel), and four civilians who allegedly conspired to let two people steal an airplane from Arroyo Barril airport in Samaná (northeast), face one year of pretrial detention.
The Justice Ministry identified the suspects in the foiled plane heist as Navy captain Luis Manuel Pimentel, Army sergeant Andy Lebrón, military contractor Ángel Benavidez, inspectors Wilfredo de la Paz and Antonio Rodríguez (Carlitos), airport operations inspector Carlos Daniel Carpio and aviation technician Esmeraldo Calcaño.
The Justice Ministry adds that the investigation found that Orlando Morales Gaitán and Ramón Castillo Manríquez entered the airport to remover seats, fill with fuel and take off in a Piper PA-23, registry HI896, whose destination wasn't immediately disclosed.
It said that both Castillo (Colombian) and Morales are on the loose.