Twelve dead during festivities of Christmas Eve and Christmas, according to the COE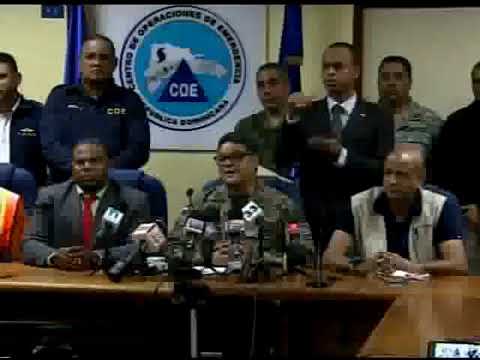 COE
The director of the Emergency Operations Center (COE), Juan Manuel Méndez, said today that twelve people died during the first phase of the operation "Safe Christmas, A Pact for Life 2018-2019," which began on Sunday and concluded 6:00 pm yesterday.
Of those killed 11 were in traffic accidents involving motorcycles, of those, 9 were inside the vehicle. The other died because of alcohol poisoning.
"There were 103 traffic accidents within the operation, of these 61 were on streets and avenues; 42 on highways and roads. 55 involved motorcycles; 25 light vehicles and 10 heavy vehicles, "said the COE director.
The Ministry of Health reported that so far the operation has attended 1,914 people in the mobile offices and hospitals.
During the festivities, 528 people intoxicated by alcohol were treated. Of these 35 were children aged between 2 and 17 years. They also treated 99 for food poisoning.
The provinces where most incidents were registered were Santo Domingo, Santiago, San Cristobal, Duarte, Monte Cristi, Peravia and Elías Piña.
"In relation to the festivities of last year, deaths were reduced by 40%.
9 people died in vehicles this year, compared to 15 in 2017," said Méndez.
The second phase of the Operation will begin on Sunday, December 30, at 2:00 pm and end on Tuesday, January 1, 2019, at 6:00 p.m.
To carry out these operations, the COE has the support of the Ministries of the Presidency, Administrative of the Presidency, Defense, Interior and Police, Public Works and Public Health.
Also, the National Institute of Traffic and Land Transportation (Intrant), the General Directorate of Communication of the Presidency (DICOM), the Social Plan of the Presidency, the National System of Emergency and Security 9-1- 1, Economic Eaters , Civil Defense, National Police (PN), General Directorate of Traffic Safety and Land Transportation (Digesett), Cestur, Inacif, Omsa, Promese, Optic, the Red Cross and Fire Brigades, El Indotel, RentalVision SRL, COMIPOL and CECCOM.