Another 600 soldiers sent to border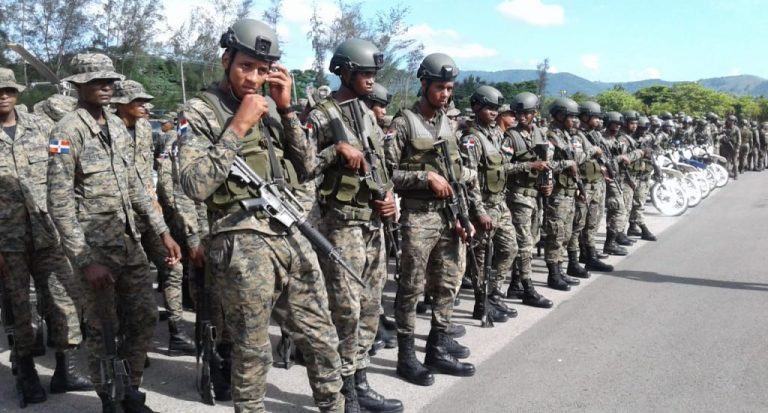 This Thursday the Ministry of Defense together with the branches that make up the Armed Forces reinforced the surveillance and security in the border strip with another 600 men through the Joint Task Force and Interagency "FTCI-Border Fence."
The act of departure took place in the Army military camp August 16, led by the Minister of Defense, Lieutenant General Rubén Darío Paulino Sem, along with the Deputy Ministers of Defense, the Army's General Commanders, Maj. Gen. Estanislao Gonell Reglado; of the Dominican Navy, Vice Admiral Emilio Recio Segura; of the Air Force, Major General Richard Vásquez Jiménez; the general director of the Police, Major General Ney Bautista Almonte, among other senior general officers.
The reinforcement will last until January 13, to observe the movement of immigrants who crossed into Haiti to spend Christmas and New Year festivities.
The Ministry of Defense and the Armed Forces, with the reinforcement guarantee control during the return of the immigrants from the parties through the Haitian land border.
"These soldiers go to the border with the mission of guaranteeing the missions assigned to the border crossing unit, after the return of immigrants who crossed the border to spend the Christmas holidays," said Minister Paulino Sem.
Meanwhile, the commander of the Army of the Dominican Republic (ERED), stated that the soldiers aim to prevent and counteract the irregular immigration of foreign citizens, illicit trafficking of controlled substances, firearms and merchandise, as well as other illegal activities along the border areas, always in coordination with the General Directorate of Migration.
The general commander of the Dominican Republic Army (ERD), Major General Gonell Regalado, said that the Interagency Task Force operates in coordination with all the institutions and agencies responsible for border security.
The Border Fence will operate in areas under the responsibility the Third, Fourth and Fifth Brigades of the Army. Usually, these brigades operate with 360 men.
There will also be three helicopters, in Barahona Elías Piña and Dajabón and a FARD helicopter and border control patrols on the international highway from Villa Anacaona to Pedro Santana.