Fires cause losses of nearly RD $ 10 billion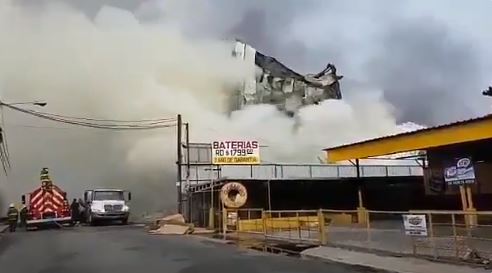 SANTO DOMINGO.- Fires have become the main enemy of the business sector in the last two years, to the point that 15 companies were wholly or partially destroyed, according to press reports.
These facts have caused significant economic losses and fatalities.
31 insurance companies had to pay 9.8 billion pesos during the period to the affected companies, according to the Dominican Chamber of Insurers and Reinsurers (CADOAR).
Of that amount, CADOAR estimates that at the end of this year they will have to pay 4.8 billion pesos.
This amount represents 18.5% of the payments of the insurance sector, which will have paid out 26 million pesos in the different insurance lines this year, said CADOAR executive VP Miguel Villamán.
"This year has been one with the most major fires that have affected the local industry," said Villamán to EL DÍA.
He argued that with the latest fires these estimates could vary since they have not yet determined the specific amounts that will be paid to these companies.
Affected companies
In December alone, there were three major fires in Santo Domingo, causing loss of life and dozens of families affected.
Throughout this year the production of mattresses, plastics, furniture factories, food stores, motorcyclists and others strongly suffered the effects.
The causes of these fires were diverse, including spontaneous ignition, gas leaks, short-circuits, and others, explained Miguel Villamán.
According to the former president of the Association of Industries of the Dominican Republic (AIRD), Campo de Moya, employers never recover the economic losses left during those tragedies, nor with insurance payments. "In many cases, you lose the most important, human capital," he lamented.
Work stoppage
After the accidents, several companies remain without economic activity for months, which causes many employees a mandatory work stoppage, said the general secretary of the Confederación Autónoma Sindical Clasista (CASC), Gabriel del Río.
Although he stressed that several companies reintegrate their employees in other branches. In that sense, he demanded the creation of unemployment insurance to help those who are out of work.
"We are concerned that there is no unemployment insurance to ensure that when these stoppages occur, employees receive their salary," he said.
Damage
Tragedies in industries
-1- Incidence
In the last disaster, eight employees of the Polyplás company of Villas Agrícolas died, and at least one hundred were injured.
-2- Review
There are 50 "insurance adjusters" in the country, who are in charge of evaluating losses when catastrophes such as fires occur.
-3- Emergencies
Nationally, firefighters received 16,212 emergency calls in 2017.