Many will spend New Year in the provinces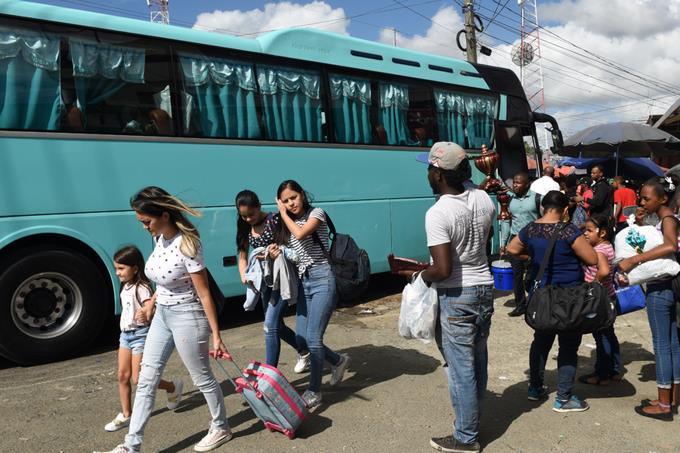 Exodus. Hundreds of passengers began to arrive yesterday at the different bus stops to travel to the interior.
With the aim of spending New Year's Day with family and friends in the different regions of the country, hundreds of Dominicans with suitcases in hand approached the various terminals to go to their native towns.
Forming long lines, children, mothers, and fathers were waiting to board the buses that would take them to their destination. On the routes located at kilometer 9 of the Duarte highway, the large number of people was notorious, even though one of the drivers said that, in comparison with last year, the number of passengers traveling was lower.
The prices to journey to the different points of the Cibao as La Vega, Nagua, San Francisco de Macoris, Maimon, Salcedo, among other areas, varies between 160 to 300 pesos, however in the southern stop located on Duarte Avenue, the minimum is 300 pesos while the maximum runs 500 pesos.
María Domínguez is one of the frequent travelers to Neiba, Bahoruco province, and like many people, chose to spend these holidays in the company of her parents and friends, to celebrate the New Year.
Also, Juan Sosa made an effort to go to Tamayo, to visit his children and other close relatives.
Chaos on Duarte Avenue
Duarte Avenue remains congested and hampered by a long line of buses that arrive at the southern stop to pick up passengers who are waiting to board them.
Another reason for the chaos is the gathering of people who come to this area to shop for clothes and products, in addition to the number of merchants who take over the streets and sidewalks.
"There is no chance to walk here. No one knows which is worse: to walk on the sidewalks or in the streets?" complained one of the passersby in the middle of the traffic jam.