Government is national park's worst enemy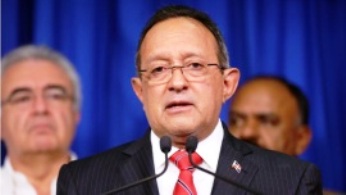 A. Estevez. File.
Santo Domingo.- Just one day after the Environment Ministry's assertion that ​​Valle Nuevo National Park (central) is free of agriculture and human settlements, the Superior Administrative Court ruled that the protected area has been violated.
The ruling handed down Thursday resulted from a request for an injunction filed by environmentalists against the agency and minister Ángel Estévez on alleged violation of the ban on agriculture within the park, the failure to evict squatters and halt farming villages. Farming, livestock, crop seeds, fertilizers, agrochemicals and tillage tools in general are strictly prohibited.
Environmentalists note however that farming continues in several areas of Valle Nuevo as Diario Libre reported in December, and asked the court to enforce its ruling.
Estévez, according to Environment, has stated on several occasions that he doesn't intend to eliminate any crops or demolish any dwelling to avoid uprooting farmers, even if it takes "two or three years."
A source of major rivers
Valle Nuevo National Park is 910 square kilometers of forests threatened by intensive farming of short cycle crops on steep mountains of more than 2,000 meters above sea level.