Opposition parties forge tacit alliance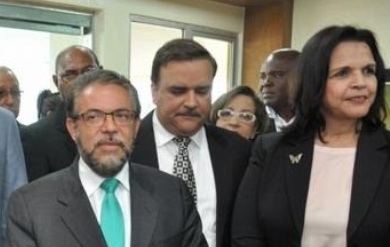 Guillermo Moreno, left, Minou,Tavares, right. Filr.
Santo Domingo.-  The Central Electoral Board (JCE) will on Thurs. discuss the possibility that a coalition of parties can hold simultaneous primaries.
The announcement also revealed the tacit alliance between the opposition parties Opcion Democratica (OD) headed by Minou Tavárez Mirabal, and Alianza Pais (Al-Pais), whose president is Guillermo Moreno
The JCE noted that the Parties Law doesn't bar new organizations from participating as coalitions in elections, and that the Electoral Law authorizes them.
Tavarez and Moreno, interviewed Thurs. on El Dia, Telesistema, said they expect the JCE to announce today that both parties, in addition to forging an alliance for the 2020election, can also participate as a bloc in the primaries set for October 6.