Truckers scoff at stricter road rules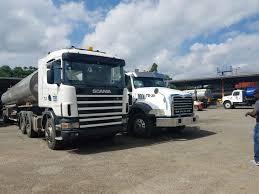 Santo Domingo.- Despite sweeping regulations for heavy vehicle traffic which take effect today Friday, local media already report widespread violations of the rule which forces trucks  to stay on the right lane.
Outlet Listin reports that on the Duarte highway and the busy Luperón avenue heavy vehicles are already violating the regulations issued by the National Land Transport Agency (Intrant).
"Starting today the transit police will be monitoring the main roads of the country to enforce the first phase of the new resolutions adopted by the Intrant," the regulator announced Wed.
The resolution bars truck drivers from driving at no more than 70 kilometers per hour on trunk roads and over 55 KPH on local or country roads.
In addition, they can only drive in the right lane.