Dominican Republic recognizes Venezuela's Guaido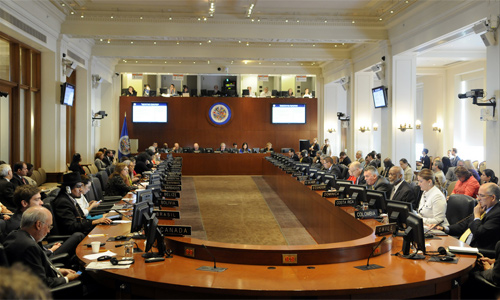 OAS
Washington DC.- The Dominican Republic on Thurs. told the Organization of American States (OAS) is that Venezuela's crisis can only be defused through talks in which all Venezuelan political actors participate, as "reconciliation can be achieved and to agreed to only under the indispensable conditions of holding a new electoral process that truly reflects the will of the citizens and resolves peacefully to the current crisis in that country."
"We reiterate our support for the second article of the OAS Permanent Council resolution of January 10, 2019, which stipulates that only through dialogue with the participation of all Venezuelan political actors can national reconciliation be reached and agreements be reached," said counselor minister Francisco Cruz before the OAS assembly.
"To hold a new electoral process that truly reflects the will of the citizens and resolves the current crisis in that country peacefully are indispensable conditions," he said.
The Dominican diplomat added that in order to prepare that transition process and carry out a reliable and competitive electoral process, the assistance of the international community will be necessary.