Ex-official in scandals charged with US$30M+ swindle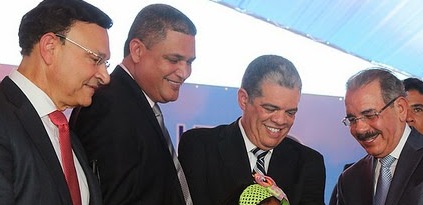 Pimentel Kareh, left, Danilo Medina, right File.
Santo Domingo.- The lawyer Tomás Castro on Wed. asked the National District Attorney's Office to indict former senior official Miguel Pimentel Kareh, who's been sued by a brother who accuses him of having swindled him out of over US$30 million.
Castro, who represents Víctor Pimentel Kareh, said the case is in legal limbo, because in his view, Government authorities protect the former head of the State Works Supervisory Engineers Office (OISOE).
"On September 3 of last year, we subpoenaed the Prosecutor's Office to issue an order into the lawsuit against Miguel Pimentel Kareh, and they neither grant it nor refuse it and have us in a limbo," the lawyer told the press at the Ciudad Nueva courthouse.
Court papers show that Miguel Pimentel Kareb was his brother Víctor's partner in the hotel marketer and operator Caribbean Village & Resorts, with a 40 percent stake (20% each).
However, Miguel Pimentel Kareh sold his stake but didn't give Victor his corresponding part, according to Castro.
History of scandals
A close collaborator of president Danilo Medina, Miguel Pimentel Kareh has been linked to major scandals, including the embezzlement at the failed Peravia bank; the fraudulent collapse of the insurance company Seguros la Union, and the suicide of OISOE contractor David Rodriguez, which led to the convictions of two former officials of the agency.