Historic collaboration: North Coast communities work to build home libraries for students in the Dominican Republic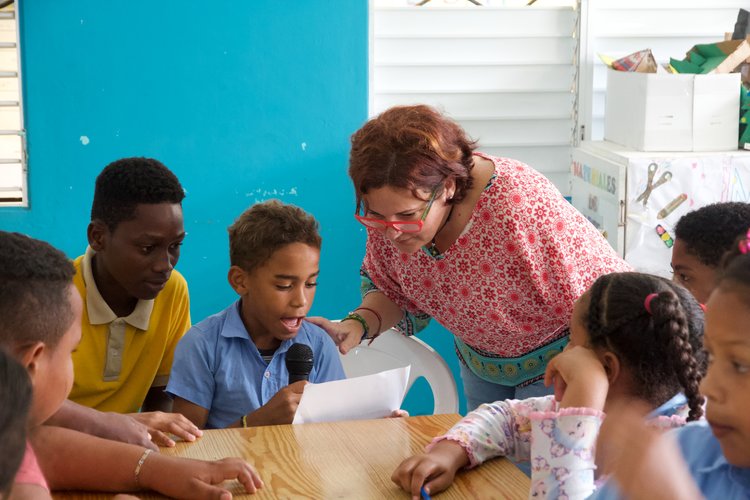 Press Release
Cabarete, Puerto Plata, Dominican Republic – February 21, 2019. The Dominican Republic Education and Mentoring (DREAM) Project is hosting their fifth annual My Very Own Libraryâ DREAM Book Fair today in collaboration with Scholastic Book Fairs. This event is supported by the family and friends of My Very Own Libraryâ founder Anne Feeley (1958-2012) and the Bailey Tuvell Family and DREAM's new corporate Ambassador, UPS. Their generous contribution comes in the form of books, which is the engine that runs our MVOL fair.
The My Very Own Libraryâ DREAM Book Fairs will offer more than 2,000 students in the Dominican Republic the opportunity to select ten new books in Spanish over the course of the school year. The book fairs include motivational literacy activities and inspiring special guests that generate excitement for reading, helping parents' better support reading in the home. Participating students will be selected from five area public schools as well as DREAM's Early Childhood and High Quality Primary Education programs, including the Montessori Early Childhood Program, Young Stars, Summer Schools and Camps.
To celebrate our second fair of the year, we are pleased to welcome Rita Rosa Ruesga, a Cuban author, educator, singer-song writer, and speaker. Her albums for children have received four Latin Grammy Nominations. Her book Los Mariachis won first place at the International Latino Book Awards 2014 and is well known for the Spanish English book La Piñata. Ruesga's work is celebrated and used in many classrooms across the world as a way of intertwining storytelling, vocabulary and music.
This is the second round of book fairs for 2018-19, with the main event taking place at the DREAM Education Center in Cabarete followed by additional book fairs at the Jeremias Kerry Green School in La Unión, Centro Educativo Sabaneta de Cangrejos in Cangrejo, Centro Educativo Juan Lockward in Montellano and Centro Educativo Gregorio Luperon in Sosua. These book fairs will highlight the importance of reading and its role in providing high quality education to the children of the Dominican Republic, while providing countless hours of reading and literacy activities in the homes and classrooms of underserved communities.
Since 2014, DREAM and My Very Own Libraryâ have hosted book fairs in which 2000 readers have chosen more than 20,000 books per year to create libraries in their own homes. This program contributes to long-term success for children, as studies show that having books in the home can predict a child's educational attainment level. Carmen Cruz, a 4th grade teacher in Callejon de la Loma, notes how My Very Own Libraryâ fosters a love for literature. "The book fairs are very important for children and their parents because it allows them to read different stories together.
Furthermore, they are fun, exciting and different from what they experience daily."
To help cultivate a culture of reading within households we have hosted parent workshops inside the public schools, giving parents resources and strategies to use with their children. Ivelisse Garcia says "In my case I have seen positive changes with my 7-year-old daughter. She participates in the book fairs since she was four years old. I love going to the reading workshops, as well, they help me come up with activities to do at home. We started reading together every night with the whole family."
My Very Own Library and DREAM Project are proud to have created this commitment to reading. Children across the north coast await our fairs with anticipation. Marely Mora, from Cabarete, says "I have participated in the fairs for two years. My favorite books are about Pepa. I like reading at home or in the park and I love reading to my brother and grandpa."
The goal of the DREAM Book Fairs is to improve literacy rates and ensure that all youth in the country have access to books and a brighter tomorrow, free from the cycle of poverty. DREAM strives to support and partner with the Ministry of Education in the Dominican Republic, reversing the trend of low performing academic results and creating a shared culture of reading and high quality education. To learn more about the DREAM Project and to support this memorable event, please visit: www.dominicandream.org, or http://www.myveryownlibrary.org.
For more information about Scholastic and Scholastic Book Fairs, visit the newsroom at: http://newsroom.scholastic.com