Havana, now Caracas: US military uses Dominican Republic soil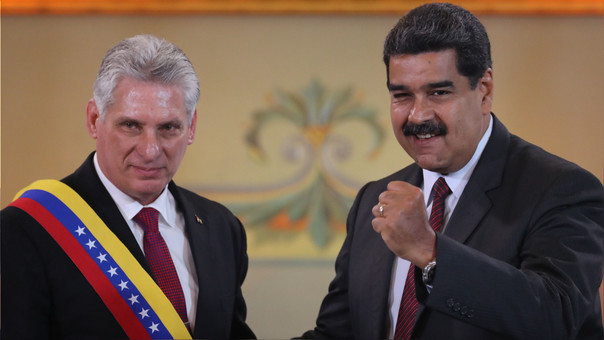 Cuban leader Miguel Díaz-Canel, Nicolás Maduro. Photo rpp.pe.
Santo Domingo.- Venezuela's government on Thurs. denounced "solid indications' pointing to the use by the United States of some Caribbean countries territories "as platforms for the planning and organization of operations of an illegal and terrorist nature."
It said it "established contacts with the government of the Dominican Republic, with the authorities of Puerto Rico and other Caribbean island countries, in order to alert them to the use of their respective territories for the launching of these reprehensible actions of force."
Last week Cuba accused the United States of staging troop movements in the Caribbean in preparation for a future "military adventure disguised as a humanitarian intervention" in Venezuela, and called for international mobilization to prevent an escalation in pressure against its ally Nicolás Maduro .
Havana said in a statement that US military transport aircraft which flew to bases in Puerto Rico, the Dominican Republic and other Caribbean islands were detected from February 6 to 10, "surely without the knowledge of the governments of those nations."
Havana's assertion was denied by the Dominican foreign minister, Miguel Vargas.