After weeks of waffling, the Govt. recognizes Venezuela envoy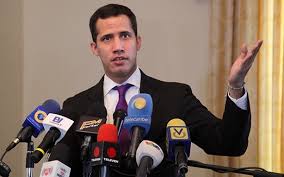 J. Guaido.
Santo Domingo.- Presidency spokesman Roberto Rodríguez Marchena, on Mon. said that just as the Dominican Republic recognized Juan Guaidó as president of Venezuela, then Nicolás Maduro's envoy doesn't represent Caracas.
"Juan Guaidó must comply with the protocols required by Dominican diplomacy to accredit his ambassador. He has to present a placid and be accepted by the government, so that it does not happen to us as it happened in Costa Rica, that he appointed an ambassador and this lady understood that she had to occupy the embassy premises, which was being occupied by officials of Maduro, so it was a very uncomfortable situation," said Rodriguez.
Interviewed on Matinal 5, Telemicro, the government spokesman said that's the reason Guaidó's envoy wasn't in the February 27 ceremonies to mark National Independence.
The official's statement comes after weeks of waffling over the government's embarrassment over having to deal with rival envoys from Caracas.