A date of infamy for Dominican journalism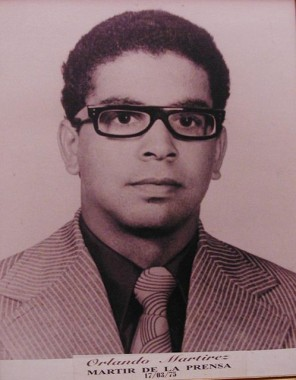 Santo Domingo.- Orlando Martinez Howley, who was a journalist and member of the Dominican Communist Party, was cowardly murdered in an ambush 44 years ago today.
He was editor of the magazine "Ahora" and columnist of newspaper El Nacional when he was gunned down in 1975 during the chilling Police State, "Los 12 años de Balaguer" (1966-1978).
His murder was motivated by his Op-Ed titled "Why not, Dr. Balaguer?"
It went unpunished until the president Leonel Fernández, elected in 1996, ordered the case reopened one year later.
The accused
Air Force Corp. Mariano Durán Cabrera, Air Force  Maj. Rafael Alfredo Lluberes Ricart (Lluberito), Army Maj. Joaquín Antonio Pou Castro, Luis Emilio de la Rosa Beras, José Isidoro Martínez González and Salvador Lluberes Montás (Chinino), who was later excluded from the case on "health reasons."