Back reelection or else, President's sister warns Gov. workers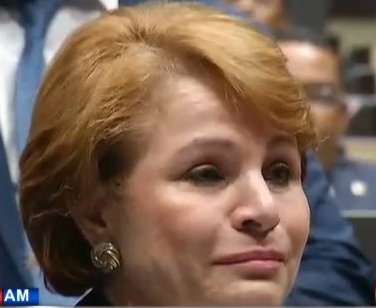 L. Medina wept unconvincingly after being caught scamming the Education Ministry.
Santo Domingo.-  Deputy and president Danilo Medina's sister, Lucia Medina, on Sun. warned that the only way in which Gov. workers can secure their job is to support her brother's reelection, despite the Constitutional ban.
"(With) putting another colleague we run the risk of losing the election because we would go to the second round and in the second round, every time the measurements have been made, we lose the elections", she told officials in an audio of a gathering in San Juan province last Friday.
"No matter what the level, everyone wants to be reelected, so if we all want to reelect ourselves we will get in tune with the government and we will defend that government," said the deputy.
When Lucia Medina asked that of those present who aren't supporting the government, she herself replied that they are "those who want the position all of you have."