US agents seize Dominican-bound US$390,000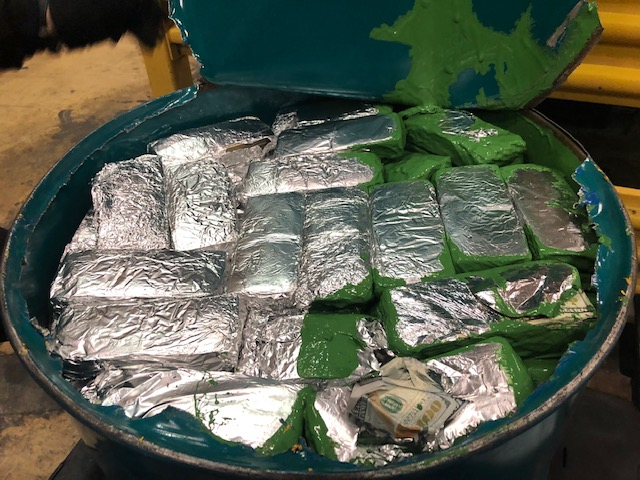 SAN JUAN, Puerto Rico – U.S. Customs and Border Protection Officers seized over $390K concealed inside two vehicles in separate incidents last week in the Port of San Juan.
On Mar. 11, during the boarding process at the ferry M/V Maestro Universe, bound to the City of Santo Domingo, CBP officers inspected two (2) excessively heavy 55 gallon barrels of liquid paint, finding seventy-two (72) packages of unreported currency inside.   The currency amounted to $384,840.
In another cardboard barrel, Officers found a vacuumed pack bag from a Lipton Ice Tea container with $10,000 in 100-dollar bills.
"Travelers can carry any amount of currency or monetary instruments into or out of the U.S. However, if the quantity is $10,000 or higher, they must formally report the currency to CBP," indicated Edwin Cruz, San Juan Area Port Director.   "Failure to report may result in seizure of the currency and/or arrest."
U.S. Homeland Security Investigations (HSI) assumed custody of the seized currency for further investigation.
While anti-terrorism is the primary mission of U.S. Customs and Border Protection, the inspection process at the ports of entry associated with this mission results in impressive numbers of enforcement actions in all categories.
Dominican arrested for using forged documents to fly to NYC
SAN JUAN, Puerto Rico – U.S. Customs and Border Protection Officers arrested Friday an alien man using fraudulent documents prior to boarding a domestic flight at the Luis Munoz Marin International Airport bound to the city of New York.
Juan Bautista Martinez-Ascencio, a citizen of the Dominican Republic, made an initial appearance Monday before U.S. Magistrate Judge Marshall Morgan, for charges of violating Title 18, United States Code, Section 1546, for fraud and misuse of visas, permits, and other documents.
"Aliens illegally present in the United States, as well as criminals, obtain counterfeit identity documents or stolen documents to assume the identity from a US citizen from Puerto Rico," indicated Edwin Cruz, San Juan Area Port Director. "Our officers are trained to detect fraudulent documents and bring impostors to justice."
On Mar. 15, during pre-boarding inspections authorized by federal law, Mr Martinez-Ascencio claimed to be a citizen of the United States by the name of "Carlos Oscar Rodriguez-Melendez," providing a Puerto Rico driver's license, a social security card and a Puerto Rico birth certificate.
CBP Officers referred Mr Martinez-Ascencio to further examination, as the documents he presented did not appear to be genuine.  Further inspection revealed his identity, to which the defendant indicated purchasing the documents to be able to live and work in the United States.
Special Assistant US Attorney Cristina Caraballo is prosecuting the case on behalf of the U.S. Attorney's Office in the District of Puerto Rico.
If convicted, Mr Martinez-Ascencio faces imprisonment for not more than 10 years, or a fine, or both.