Warning: halt Medina's reelection now or shed tears of blood later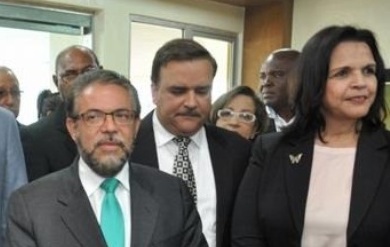 Minority opposition leaders G. Moreno, (l), and Minou Tavarez, (r)
Santo Domingo.- Opposition leader Guillermo Moreno said Wed. that the Central Electoral Board is the entity that must ensure that the push to reelect president Danilo Medina doesn't continue, a the Constitution prohibits.
"Although the current Constitution prohibits Danilo Medina from opting for a third term, his faction, in violation of the Constitution, is promoting public reelectionist activities throughout the national territory and is happening under the Central Electoral Board's total silence," said Moreno.
He warned that if the country fails to halt Medina's reelection efforts, it will cry "tears of blood. If we don't act today to stop the reelection, it is certain that tomorrow we will cry tears of blood."
Moreno, president of the minority party Alianza País said the recent statements by deputy and Medina's sister Lucia Medina have awakened those still asleep and confident that the President would not seek a third term.