Fernandez's 36% beats Medina's 29% in ruling party primary: poll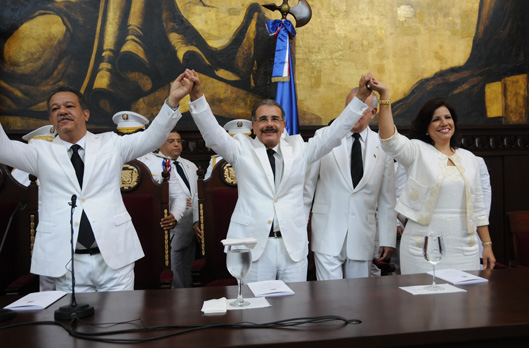 Leonel Fernández, Danilo Medina, Margarita Cedeño.
Santo Domingo.- An Asisa poll released Tuesday found that former president Leonel Fernandez leads current chief executive Danilo Medina with seven points in intention to vote in the October 6 ruling party (PLD) primaries.
It said that 36% of the respondents who would vote in the PLD primary will do so for Fernández; 29% for Medina and 14% for vice president Margarita Cedeño.
In the main opposition party (PRM), only those who declare themselves as members of that party, the poll found that Luis Abinader is the favorite with 79%, followed by former president Hipólito Mejía with 15% , Carolina Mejía with 4% and David Collado with 2%.
73% reject Constitution amendment
On the controversial Constitutional amendment to allow Medina's bid for a third consecutive term in office, Asisa found that 73% of those polled said it shouldn't; 23% agree and 4% didn't respond.
The poll made from March 15 to 17 interviewed 1,205 voters in the main provinces, with a margin of error of +/- 3.0% and a level of confidence of 95%.