Ex-firebrand prosecutor says Justice must earn citizens' trust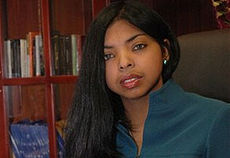 Santo Domingo.- "I have worked to fight extrajudicial executions, that is why my rulings would strongly reflect sanctions against this type of decision," former National District Attorney Yeni Berenice Reynoso, told the National Magistrates Council in her bid for a Supreme Court bench.
She said the Dominican justice system needs to instill more trust among citizens. "This trust should be generated by transparency."
"Our decisions would reflect criteria related to gender equity," she said on the topic that occupied most of her statements before the Council, which asked to state her view on the topic.
Firebrand
Reynoso earned a reputation as a firebrand prosecutor during her two-year tenure as National District Attorney.