'Air Cocaine' pilots get 6 years in jail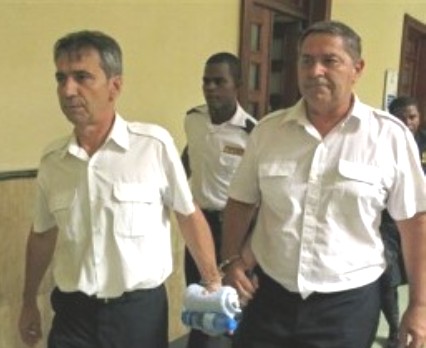 Bruno Odos, Pascal Jean Fauret
Santo Domingo.- The seven Frenchmen charged with drug trafficking between the Dominican Republic and France in the "Air Cocaine" case were sentenced Friday to prison terms of up to 18 years, including six years for the two pilots, Bruno Odos and Pascal Fauret, AFP reports.
The relatives of the condemned burst into tears and sobbed when the court of Aix-en-Provence read the verdict after a seven-week trial.
"It's a scandal! This is political!," the relatives shouted during sentencing by the five judge panel court.
Two of the nine defendants were found innocent.
The court found it proven that the two French pilots, Bruno Odos, 59, and Pascal Fauret, 58, and the other five participants in the operation, tried to ship 700 kilos of cocaine aboard a Falcon 50 jet from the Punta Cana airport to Saint Tropez (southeast of France), in March 2013.
The plane had been rented for a private flight, and the pilots were apprehended on the runway. They both denied having knowledge of the plane's cargo of cocaine hidden in 26 suitcases.
Sentenced to 20 years in the Dominican Republic, the two pilots staged a spectacular escape from the Caribbean country aboard a speedboat, arranged by Christophe Naudin, who was deported to France last year to finish out a 5-year jail sentence for aiding and abetting imposed by a Dominican court.