Vice President reveals an interest in the top spot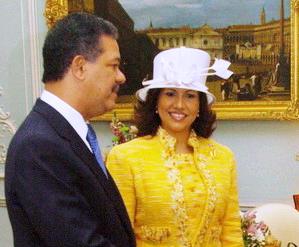 Will she don the big hat/ L. Fernandez, M Cedeño.
Santo Domingo.- Vice president Margarita Cedeño on Sun. said the ruling party (PLD) must agree on a candidate who ensures victory in a first balloting in next year's elections, and hinted at her interest by noting her work to "benefit of the most needy."
"I think it's going to be a big waste to be just the first lady, so I hope you can agree … if not give way to a new generation, a person who can really win at first round, then at least to be taken into account as to my work and the desire of the Dominican people, " she said in a statement.
She stressed however out that she isn't aspiring to "nothing" nor does she feel predestined.
"I already went from being first lady. Former President Leonel Fernández, my husband, if it's the will of God, of the people and of the party, will become president, I will arrive at his side, I will wear the first lady's hat, but I think it will be a great waste to return to be only first lady."