Danilo Medina crosses the border, supervises military equipment and listens to community demands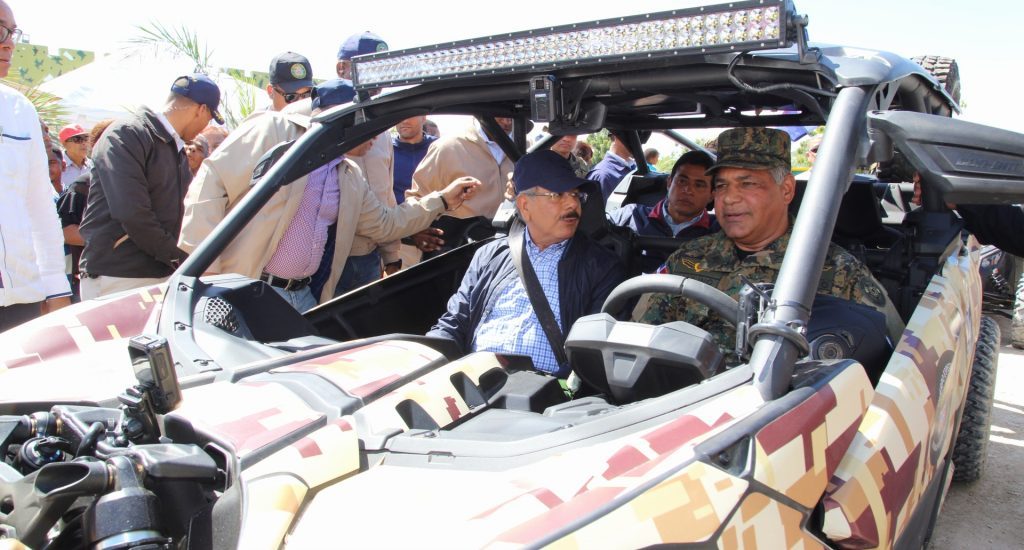 President Danilo Medina and Defense Minister Lieutenant General Rubén Darío Paulino Sem, in an all-terrain vehicle on the border. (Photo: external)
President Danilo Medina made an extensive tour of the border this Sunday. He supervised all the renewed military endowments, included between La Descubierta and Hondo Valle, that protect the Dominican territory.
Medina also addressed the needs of the people of the border communities, in order to continue democratizing the opportunities for well-being and a better future for the Dominicans.
During his Surprise Visit, aboard a military buggy that is deployed daily for the protection of the border, led by the Minister of Defense, Lieutenant General Rubén Darío Paulino Sem, Medina traveled from La Descubierta to Hondo Valle.
In Los Pinos del Edén, La Descubierta, the Governor spoke with representatives of the Border Development Association, the Popular Research and Education Center, the Don Bosco Center, La Descubierta Technology Center and La Descubierta Development and Culture Foundation.
The members of the aforementioned organizations explained their needs: improvement of the access roads of the agricultural plantations to the nearest urban centers and a bus for the students.
The members of the Juan Pablo Duarte Association, Cooperativa de Productores Agropecuarios y Servicios Múltiples Los Pinos and the La Esperanza Association of Savings and Loans also took advantage of the presence of Danilo Medina.
They requested the construction of a water reservoir and drip irrigation for 3,500 tasks, installation of a communication antenna, transportation for students traveling to the La Descubierta municipality school and the construction of a housing project for 100 poor families.
The position of Cacique Enriquillo was the third point visited by Medina, where he received information on security work in the area and reforestation.
The president participated in this tour with the military staff that serves in this position and with inhabitants of the Sabana Real community, whose needs were met.
The community members requested teachers for the school, the extension of electrical networks of Pinos del Edén, Ángel Feliz and Sabana Real, a polyclinic, a binational market and funds for cooperatives.
Likewise, a housing project for 60 families in the area, the replacement of the aqueduct pipes, the asphalting of the streets and a community center.
After listening and accepting these requests, the president continued with the tour and verified the status of the positions Pirámide 204 and Aniceto Martínez.
Immediately afterward, he moved to the Cañada Miguel Post, in Hondo Valle, where his munícipes raised the need for the Comendador-Hondo Valle highway and tubular wells for the construction of an agro-industrial park.