The story of the Battle of March 30, 1844 victory and independence for the DR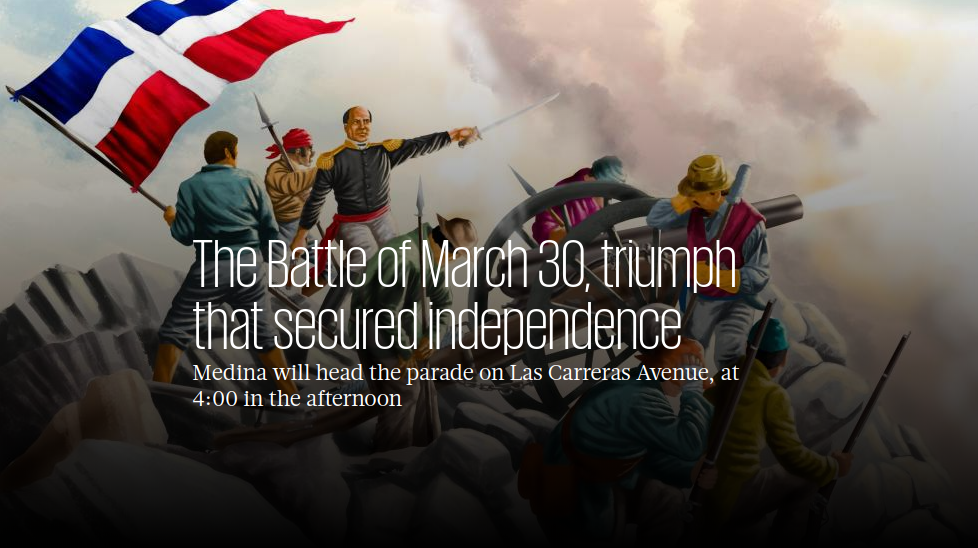 Battle of March 30, 1844
The Dominican victory, achieved in the Battle of March 30, 1844, and staged in Santiago, strengthened the determination to maintain national independence, proclaimed on the night of February 27 of the same year.
The defeat of the Haitian adversaries was received with joy, after the Creole troops, commanded by General José María Imbert, resisted five attacks, on two flanks, in which the invaders had some 600 casualties and a higher number of wounded. However, the natives did not count losses.
At noon on March 30, the fighting began on the left side of the Dominican Republic, which defended Fort Libertad.
After five hours of fighting, the Haitians requested a truce to pick up their dead and wounded.
After speaking with Imbert and asking for assurance that he would not be disturbed in the withdrawal, the Haitian General Jean-Louis Pierrot, "natural" candidate to replace Charles Rivière-Hérard, left with his troops to Haiti, in a great disorder, leaving cauldrons, drums, and other objects.
Illustration of General José María Imbert. 
(   )
Imbert compared with a cemetery the path that the Haitians followed in the flight.
"For the manifest protection of Divine Providence, the enemy has suffered such a loss without us having to feel the death of a single man or have had a single one injured, a miraculous thing that is only due to the Lord of the Armies and to the just cause!," Said the commander.
"The Dominican camp is full of heroes: Imbert who commanded the troops brilliantly and brought order where there was only helplessness. (Pedro Eugenio) Pelletier and (Achille) Michel, on the battlefield, showed their leadership skills and the effectiveness of their forecasts. (Fernando) Valerio, who with his cargo, sealed the final triumph. (José María) López, whose artillery proved to be extraordinarily effective against the Haitian columns. (Angel) Reyes, who with his battalion "La Flor", formed by the youth of Santiago, showed off in the field; in short, the battalions of all the Cibao and the people of Santiago, who once again said present, and with their presence has saved their independence," wrote the historian Adriano Miguel Tejada in "El Diario de la Independencia."
The Haitian General Jean-Louis Pierrot. 
(   )
Overdue fears
According to historian José Gabriel García, "such splendid triumphs revived the public spirit and renewed confidence in the success of the national cause, reviving in the masses the enthusiasm that had been weakened by the unjustified withdrawal of the army from the South to Baní, because in view of the latest events, only a few doubts remained that the Dominicans could sustain the independence they had proclaimed and the integrity of their territory."
The confrontation occurred weeks after the Haitians were defeated in the Battle of March 19, fought in Azua.
There had been a lot of unrest among the Dominicans, as it was thought that Santiago was not in a position to withstand a prolonged attack, given the configuration and size of the town.