Migration deports 1,277 undocumented workers after operations in 10 provinces and the GSD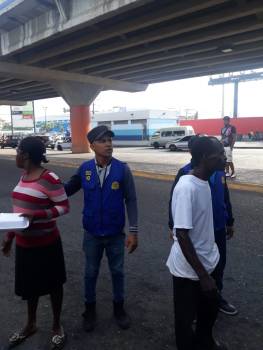 Inspectors of the Directorate of Migration carried out operations in 10 provinces. (PHOTO: MIGRATION DIRECTORATE.)
The General Directorate of Migration (DGM) deported 1,277 undocumented immigrants after carrying out interdiction operations in ten provinces and in Greater Santo Domingo, in which 1,765 foreigners were detained.
The bans were executed in Azua, Duarte, Espaillat, La Vega, La Romana, Valverde, Santiago de los Caballeros, Santiago Rodriguez, Puerto Plata, Montecristi, the National District and the municipalities Santo Domingo East, West, and North.
During the operations ordered by the Director General of Migration, Máximo William Muñoz Delgado, the Migration agents and inspectors acted with the support of military personnel of the Army, Navy and Air Force of the Dominican Republic, as well as members of the Ministry of the Environment, the National Police and the Public Ministry.
The DGM reported that Gurabo and the Other Band, in Santiago; Jicomé, Mao, Guayubín, El Posito and city center, in Valverde; Cutupú, Burende, El Pino and downtown, in La Vega; The Pilones, in Azua; Rancho Arriba, La Norma, El Naranjal and El Pinal, in Montecristi; as well as others in the National District and the Santo Domingo East, North and West municipalities.
The detained foreigners were processed and those who did not have documents were transferred to the border crossings of Dajabón and Jimaní to be deported to their country of origin.