System targets bootleg booze, cigarette tax dodging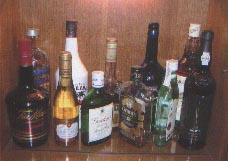 Santo Domingo.- Internal Taxes (DGII) and the Swiss company SICPA on Mon. signed an agreement to develop the Integral Identification, Marking, Authentication and Traceability System for alcohols and cigarettes; which seeks to reduce evasion and contraband.
The agreement was signed after the supplier company, known worldwide for the effectiveness of its technology, won a tender by the United Nations Development Program (UNDP).
In a press release the institution said that the development of the technological tool will enact the Fiscal Control and Traceability System, "which consists in the unique identification of each product with the objective of controlling and tracking each stage of the same, from its origin (production / import) to its final destination (consumption)."
This system is based on the use of information technologies and high security (physical and digital), which allow interested parties to authenticate the validity or otherwise of a product along the supply chain.
DGII director Magín J. Díaz, SICPA manager Felipe Wilenmann and Government Affairs director Luis Plazas signed the agreement at Internal Taxes headquarters.