77% of Dominicans believe Danilo will seek to amend Constitution to be re-elected, notes Mark Penn poll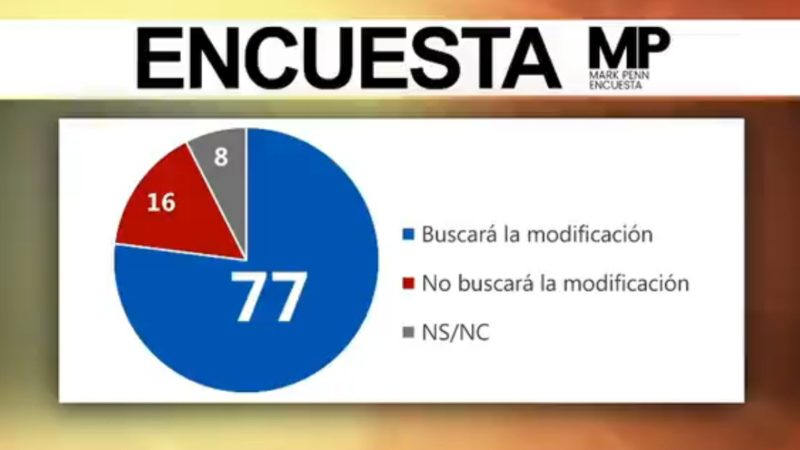 Today the Mark Penn survey released the third part of the results in relation to the political life of the country, the opinion of Dominicans about the possible modification of the Constitution, as well as the preference and intention of the vote, facing the Presidential elections.
When asked if they believe that President Medina will seek to amend the Constitution to be a presidential candidate in 2020, 77% said he will do so, compared to only 16% who understand that he will not modify it. 8% said they did not know about this question.
When asked if the presidential elections of 2020 were held today and the candidates were Medina for the Dominican Liberation Party (PLD); Abinader for Modern Revolutionary Party (PRM); Miguel Vargas for the Dominican Revolutionary Party (PRD); Ito Bisonó by the Christian Social Reformist Party (PRSC); Guillermo Moreno for Alianza País and Minou Tavárez for Democratic Option, which would you vote for? The answers were the following.
41% of the Dominicans approached said they would vote for Danilo Medina, 30% would choose Luis Abinader, while Miguel Vargas and Guillermo Moreno were tied with 5%. In the same conditions were Minou Tavárez Mirabal and Ito Bisonó, tied with 3%.
In relation to the PLD, 76% favors Danilo Medina with the vote. However, of those respondents who said they did not belong to any political organization, only 36% expressed their inclination towards Medina, compared to 29% who said they preferred Abinader.
You may also be interested: 61% ensures justice will not condemn defendants in Odebrecht case; 81% believe they still need to submit, according to survey Mark Penn
The survey also showed the people's preference if the PLD candidate were Leonel Fernández, against Luis Abinader for the PRM. In this scenario, Fernández reached only 38%, and Abinader 33%.
Mark Penn also raised the possibility of a confrontation between Fernández, for the PLD, and Hipólito Mejía, for the PRM, in this scenario, Leonel would reach 40 %, against 21% for Mejía.
On the question Do you sympathize with a political party, or do you consider yourself independent? 59% declared themselves independent, 23% expressed sympathy for the PLD, while 13% showed a preference for the PRM, 2% declared themselves in favor of the PRD, and only 1% for the PRS.