US Coast Guard repatriates 66 Dominican boatpeople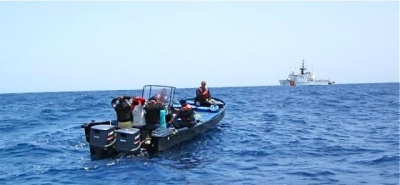 File.
San Juan.- The US Coast Guard in San Juan on Thursday repatriated 66 undocumented Dominican travelers from a group of 68, who were arrested during three operations this week in the Mona Passage, west of Puerto Rico, when they tried to illegally enter the Caribbean island.
In a statement, the Coast Guard said the first interdiction occurred Monday, when during a routine surveillance operation a Customs and Border Patrol (CBP) plane that flew over the area sighted two boats without maritime lights.
"The first vessel was located 43 nautical miles north of Aguadilla (northwest), while the second was sighted approximately 15 nautical miles northwest of Desecheo Island, also northwest of Puerto Rico," it said.
After the sighting, the Coast Guard sent a vessel to detect suspicious ships.