Lawmaker says only a political deal can save the ruling party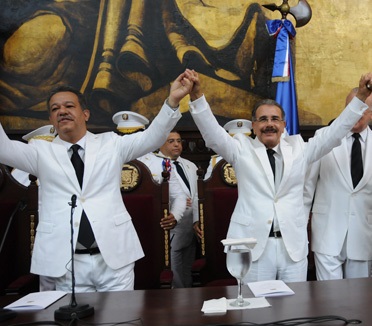 L. Fernandez, D. Medina
Santo Domingo.- The spokesman for the deputies allied with former president Leonel Fernandez on Mon. proposed an urgent meeting between president Danilo Medina and Fernández to negotiate the ruling party's (PLD) presidential candidacy within the terms established by the Political Parties Law.
Juan Quiñones said the ruling party's two main leaders have no choice but to negotiate, "if they want us to remain in power beyond 2020, because everyone knows that if we split the party loses the elections."
"They have to get together as soon as possible, because the first term of the Political Parties Law…,establishes that from June 7 to 22 the PLD has to submit with the (Electoral) Board the list with the reserves of the candidatures to leaders of our party or of other organizations by virtue of agreements or alliances that can be established," the lawmaker said.