Jail time in Peravia bank fraud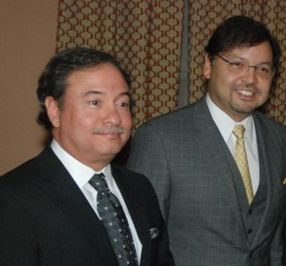 Gabriel Jimenez Garay, Jose L. Santoro.
Santo Domingo.- The National District 1st Collegiate Court on Thursday convicted five of the eight charged with fraud, conspiracy and embezzlement in the bankruptcy of the Banco Peravia bank.
The judges condemned Nelson Serret and Yessenia Serret Aponte to seven years in prison and fined RD$2.0 million.
Jorge and Carlos Serret were sentenced to three years in prison and fined RD$1.0 million, while Pausides Donato Rodríguez was sentenced to two years in prison, whereas Rolando and Nelson Cabral Veras and Florentino de Jesús Acosta were acquitted.
The first four convicts will also have to pay in excess of RD$1.9 billion in damages.
Fugitives
There are still 12 fugitives in the RD$1.4 billion Banco Peravia fraud case, among them Gabriel A. Jiménez Garay, José Luis Santoro, Luis M. Peña Melo, Miriam Serret S., Evelin Serret, Luis Serret, Carlos Bergantiños and Lorenzo A. Laviosa .
The bank scandal was uncovered in 2014.