Mayors from 9 countries address capital problems in the region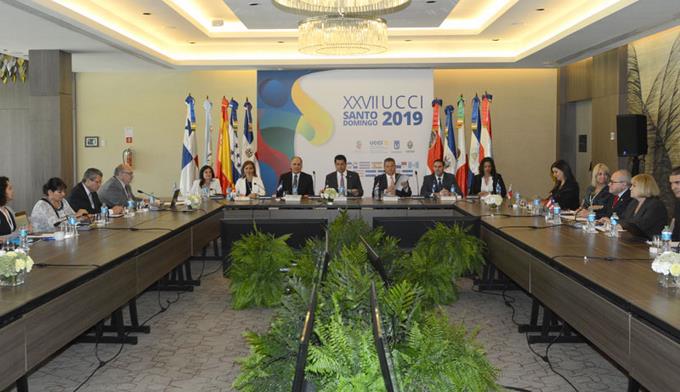 Major David Collado was the host at the mayors meeting. JOSÉ A. MALDONADO
The city of Santo Domingo yesterday became the host of the XXVII Meeting of Mayors and Mayors of Central America, Mexico, and the Caribbean, with the presence of delegations from nine countries.
Among the main problems of these cities are storm drainage, transport, mobility, security, and garbage collection. There are also challenges in safety, and environmental issues remain, but some have been resolved.
They share a similar technical understanding as they look into what similarities they share and find possible solutions. The cities represented are Tegucigalpa, Honduras; San Jose Costa Rica; San Salvador, El Salvador; Guatemala, Panama, San Juan Puerto Rico. The inaugural act of this meeting took place in a hotel in the capital and was hosted by the mayor of the National District, David Collado. The representatives of the mayors as mentioned earlier held a closed meeting and discussed various topics, including the sustainability of cities and even human rights,
"I believe in technical cooperation, the exchange of experience, sharing good practices, the training of public servants, and the exchange of experience. Our knowledge can go with these assemblies and the technical work we develop," said Collado during his Opening words.
Nasry Asfura, mayor of Tegucigalpa, advocated more significant support from the central government to city halls, since these are the ones that are most in-demand for services. And because of their demography, they are the ones that contribute the most to the treasury.
In addition to Collado, Reyna Rueda Alvarado, mayor of Managua; Judy Meana Barrera, vice mayor of Panama City; Alenssandra María Gallio, councilor of Guatemala City; Nasry Juan Asfura, mayor of Tegucigalpa; Marco Antonio Rigau, municipal president of San Juan, Puerto Rico, and Johnny Araya Monje, mayor of San José. 
In the capital. 
In the inauguration headed by Collado, participated the mayor of Tegucigalpa and vice president of UCCI, Nasry Juan Asfura Zablah; and the secretary generates, Almudena Maillo del Valle.