UERS brings energy to 40 thousand most remote inhabitants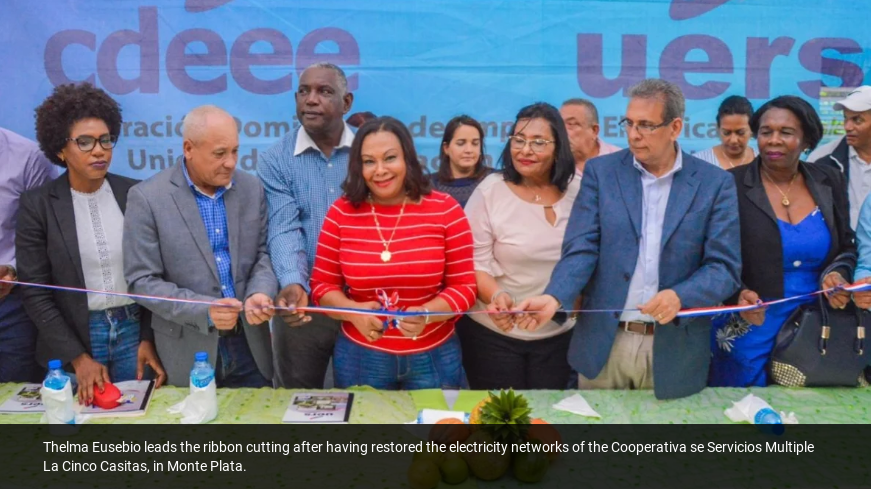 The director of the Unit of Rural and Sub Urban Electrification (UERS) said that the Government is bringing clean and quality electricity to the most remote places in the country, benefiting more than 40 thousand inhabitants. 
Thelma Eusebio explained that the UERS works tirelessly to provide communities with conventional and alternative energy, with the construction of 51 hydroelectric micro-power stations. 
The official spoke during the delivery of a work of extension and rehabilitation of conventional networks, to the Cooperative of Multiple Services Las Cinco Casas, in the municipal district of Don Juan, province of Monte Plata.
The work, with a cost of RD $ 11,314,655.00, has an installed capacity of 90 kVA, sufficient capacity to make efficient energy and reduce the costs of the main productive activities in the area, especially pineapple farming and livestock. 
The works will benefit hundreds of local producers, who will be able to improve their irrigation techniques with the benefits offered by quality electric energy. 
Eusebio reiterated her commitment to providing all corners of the country with quality energy, whether conventional or alternative as part of the goals of the president, Danilo Medina, who works tirelessly to achieve the common good.
"This is a work that will bring great benefits to this community of Don Juan, because in addition to impacting the lives of dozens of poor communities, it also facilitates productivity, with the implementation of pumps for crops, which means savings on the purchase of diesel and other fuels in the future."