Defense of the Dominican Republic will have 10 new border protection posts with Haiti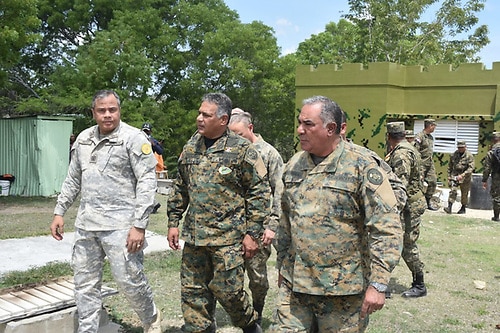 Photo : Acento.com.do/Archivo/ Lieutenant General Rubén Paulino Sem (center) during a tour of Enriquillo, Barahona, and the municipality of Restauración.
Santo Domingo, Dominican Republic (EFE).- The defense minister, Lieutenant General Rubén Paulino Sem, announced Monday that it is planned to end the year with ten new inter-agency border posts, to improve control of the steps with Haiti.
Paulino Sem said that five positions have already been inaugurated and the goal is to reach ten until the end of 2019, in a statement to the press in the National Palace, after a meeting with the Dominican president, Danilo Medina.
"We are not only improving the land border controls, but also the maritime and aerial controls of our spaces. And that's why the construction of inter-agency posts has been increasing," said Paulino Sem.
The minister said that works on the posts of Estero Hondo and Vicente Noble have already begun, which will be added to the other five posts built since 2017.
"The security of the border is the main mission of our Armed Forces," said the minister, who was accompanied by the commanders of the Army, Major General Estanislao Gonell Regalado; of the Navy, Vice Admiral Emilio Recio Segura; and of the Air Force, major pilot general Richard Vásquez; In addition to the head of the Presidential Security Corps, Major General Adam Cáceres.
Until now, the inter-agency posts of Jicomé (Valverde), Los Pilones (Peravia), Copey (Montecristi), Carrizal (Elías Piña) and Enriquillo have entered into operation, the latter inaugurated by President Medina last July.
The inter-agency positions have the presence of officials from various ministries and public bodies, to centralize in one place border, customs, security, drug, health, and environmental surveillance controls, among other functions.
Border surveillance, as explained by Paulino Sem, is one of the four axes of the Strategic Defense Plan, together with institutional strengthening, the welfare of the soldier and his relatives and support for the National Police.