Hospital de Santiago is full of children stricken by dengue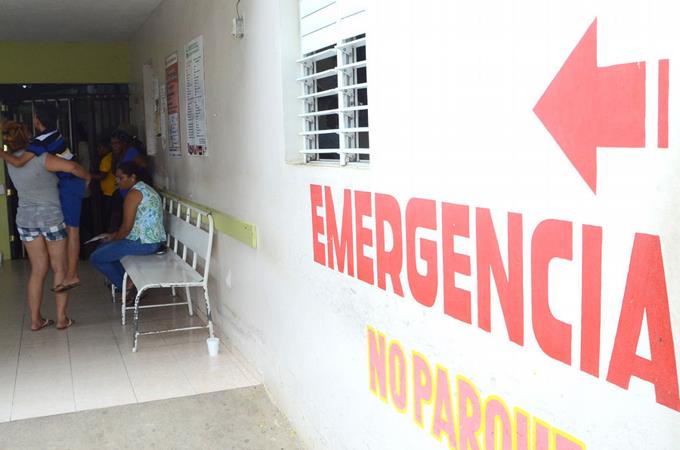 Arturo Grullón children's hospital is full of children with dengue symptoms. ONELIO DOMÍNGUEZ / LD
An alarming emergency confronted doctors, nurses, and relatives of children admitted to the pediatric hospital Arturo Grullón de Santiago as they considered the dire situation they present with suspected and proven cases of dengue yesterday.
Yesterday journalists from the Listín Diario tried to talk with the director of the health center, Cruz María Santana, but the official refused to receive them, however through the Public Relations Manager, Arelis Arámboles, said only the Ministry of Health in Santo Domingo is authorized to offer statistics and details of dengue cases.
Aramboles also clarified that the situation is controlled and that the only thing they can say is that most of the cases that have occurred in that hospital are transferred from other municipalities in the region.
Journalists also made a tour of the emergency areas, Intensive Care and quarantine rooms and relatives of children, doctors and nurses said that the number of patients has exceeded the capacity of the hospital and that in a single bed they sleep up to three children.
Many of the relatives of patients with dengue symptoms, as well as nurses and doctors, preferred to keep their names anonymous, claiming that they may receive retaliation from authorities that have prohibited them from talking to journalists.
Vinicio Peña, a native of the municipal district of Villa Elisa, in Castañuelas, province of Monte Cristi, said he has an eight-month-old grandson admitted to Arturo Grullón for nine days with dengue, but that he was kept in the emergency room because there are no beds in the internment units. But they've already found a space and moved him to a normal area.
His mother Selena Peña confirmed that her son is admitted with dengue, but refused to speak due to established circumstances.
They hide data
The adviser of the North region of the Dominican Medical College (CMD), Manasés Peña, said that dozens of children are admitted daily to the Arturo Grullón hospital with symptoms of dengue, but that the Public Health authorities try to hide that reality.
"What happens is that the Ministry wants to handle confirmed cases, but the symptoms that these children present are characteristic of dengue," he emphasized.
KNOW MORE 
Situation is emergency
Insufficient Peña meant that due to a large number of patients, the beds are insufficient.
Problems. Pastor Pablo Ureña, from the Children for a Hope Foundation, said the situation is serious and that the lack of operating rooms contributes to that.