Scattered downpours, prediction today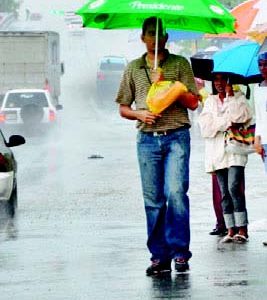 The National Meteorological Office (Onamet) forecasts that today scattered downpours will occur, with thunderstorms and gusts of wind over villages in the northeast, southeast, northwest and Central Cordillera regions by a tropical wave and the instability of a trough.
Temperatures are expected to remain hot with temps ​​between 31ºC (88F) and 33 degrees Celsius (91.5F), so it is recommended to the population, drink enough fluids, wear light clothes and avoid sun exposure for prolonged periods between 11:00 am to 4: 00 pm 
In the province of Santo Domingo, there will be occasionally increased cloudiness and isolated showers and thunderstorms will occur. While in the National District it will be partly cloudy at times and there will be widely scattered showers and thunderstorms.
For Thursday, Onamet predicts that as of today there will be local rains and possible isolated thunderstorms in demarcations of the northwest, southeast, the Central mountain range and the border regions. In the eastern part of the country, it will be sunny and the rains will be scarce.