Hospitals turning away patients with dengue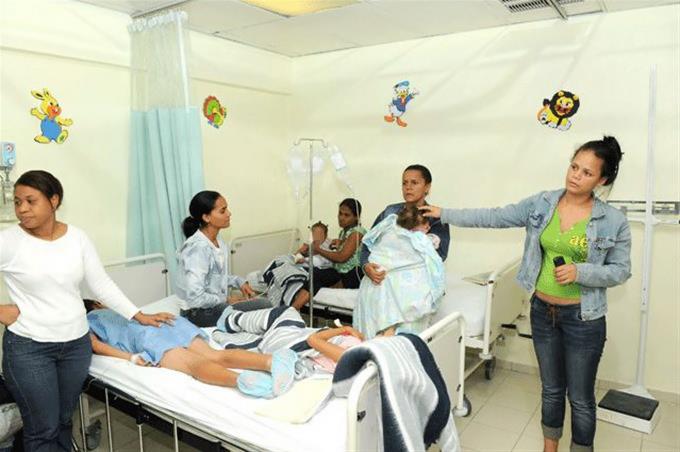 In Cibao dengue cases are on the rise and there are no beds to admit them, according to relatives of patients who come to hospitals. ARCHIVE
The number of patients with dengue symptoms continues to reach public health centers in Santiago, mainly the Arturo Grullón children's hospital.
While the complaints of relatives of patients with suspicion of the disease are growing, because hospital authorities often refuse to receive their children, alleging that they do not have medical referrals from their local hospitals. Other times the excuse is given as lack of beds.
Rosiris Rodríguez told Listín Diario that she arrived from Clavellina, province of Monte Cristi, to the Arturo Grullón hospital, with a three-year-old daughter with suspected dengue, but that doctors recommended that she be admitted to a hospital in the Northwest, because there were not enough beds in that Health center and she also did not have a medical referral.
Meanwhile, Justino Peña said he was also rejected with a six-year-old son who he took to the hospital with symptoms of the disease because Peña was told that he had to have a referral from a Castañuelas health center, where the family is based.
"When you feel that a child has a suspicion of dengue, you think of moving it to Santiago at once because hospitals are better equipped than those in our villages and science is more advanced," Peña said.
There is no place in beds
Other patients said that the lack of beds is another problem wielded by doctors to recommend that they instead be admitted to public health centers in their villages.
The majority of patients with dengue symptoms who arrive at hospitals in Santiago, especially Arturo Grullón, come from other villages, mainly in the Northwest, where the disease is affecting many people.
Manasés Peña, the adviser of the North Regional of the Dominican Medical College, said that the lack of beds is a serious problem because many relatives of the patients despair and since they do not have resources to confine them in private health centers, they sometimes choose to treat the patient with home remedies.
He stressed that there are patients that suffer between 24 to 48 hours in the emergency area until beds are vacated, allowing their relocation to a proper hospital treatment room.
He said that this problem often frustrates the relatives of these patients.
Reluctant Authorities
Meanwhile, Public Health authorities remain unwilling to provide statistics and details on dengue cases in the area.
Journalists from Listín Diario have tried several times to talk with the director of the Arturo Grullón Hospital in this city, but without results.
KNOW MORE
They don't report anything
Journalists tried to establish contacts with the Northwest regional director of the National Health Service, Domingo Colón, based in Mao, an area where most cases of dengue arrive at hospitals in Santiago, but it was not possible to obtain information.
Epidemic
The Pan American Health Organization (PAHO) said Thursday that the Dominican Republic is experiencing a dengue epidemic.