Institutions and personalities congratulate Hoy (Today) for its 38th anniversary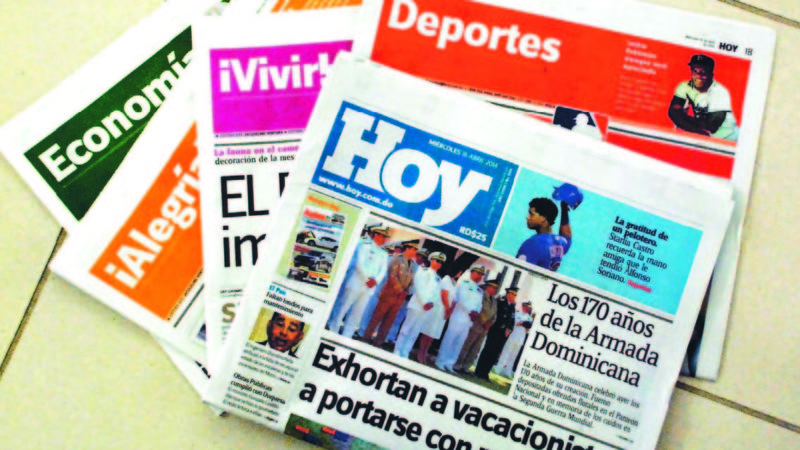 Happy 38th to Hoy (Today) newspaper!
Public and private institutions continued congratulations to the newspaper Hoy (Today) and its staff on the occasion of the 38th anniversary of its foundation, on August 11, 1981.
They weighted their editorial line and the defense of the best interests of the Nation, as well as their contributions to the exercise of impartial and objective journalism. 
The first lady, Cándida Montilla de Medina, said that the editorial and informative line of the Hoy newspaper is a reference for a thorough understanding of Dominican reality. "Hoy's broad perspective, pluralism, and rigor are an example of good journalism, so necessary in times when false news affects the credibility of the press," she said.
Meanwhile, the administrative minister of the Presidency, José Ramón Peralta, said that Hoy is increasingly consolidated in the preference of its readers for the reliability and objectivity it exhibits in each of its deliveries. 
Roberto Herrera, executive director of the Punta Cana-Macao Energy Consortium; Ana Figueiredo, from Ceo Altice Dominicana; Ángel Canó, director of the National Energy Commission; Rogelio Viesca, executive president of Claro; Armando Asunción of the Superintendency of Banks; Floria Imbert, from Amhsa Marina; Ricardo Rosa Chupany, president of the Armed Forces Retirement Board, and José Dantés, director of the State Permanent Land Titling Commission also sent congratulations.
Also extending congratulations were: the director of Traffic Safety and Land Transportation (Digesett), Ernesto Rodríguez García; the executive director of the National Migration Institute, Florinda Rojas; the Association of Industries of the Dominican Republic; the director of the National Institute of Traffic and Land Transportation (Intrant), Claudia Franchesca; Andrés Fernández, president of the La Romana Bayahibe Hotel Association; Yeneica Durán, Hospiten Marketing Manager; Brugal House; the Association of Pharmaceutical Representatives, Agents and Producers (Arapf); Eduardo Estrella; Román Jáquez, president of the Superior Electoral Tribunal (TSE); the Punta Cana Group; Winston Santo, Minister of Labor; Wyndham Resorts; Milton Ray Guevara, president of the Constitutional Court; Rafael Paz, director of the National Competitiveness Council; Alejandro Montás, director of the Aqueduct and Sewer Corporation of Santo Domingo (Caasd); José Rafael Núñez Mármol, rector of the Loyola Polytechnic Institute; Nestle Dominican; Antonio Peña Mirabal, Minister of Education; Anina del Castillo, of Proconsumidor, and Wilson Gómez, of the Duartiano Institute.