President receives deserving Dominican students in NYC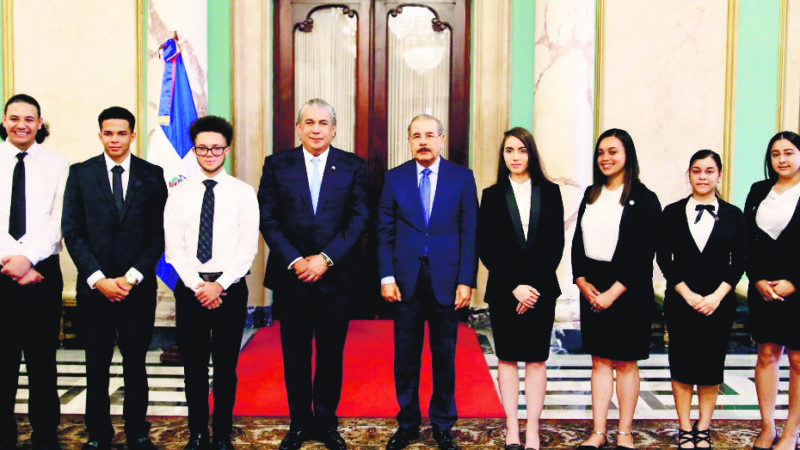 President Danilo Medina received a group of students of Dominican origin awarded the "Recognition of Student Merit" in the United States. During the cordial meeting, held in the Private Hall of the National Palace, the president of the Republic exchanged impressions with students based in the four states under New York jurisdiction: New Jersey, Colorado, Pennsylvania and New York. Today / External Source 8/15/19
A group of students of Dominican origin awarded the "Recognition of Student Merit" in the United States was received yesterday at the National Palace by President Danilo Medina. The meeting, held in the Private Hall of the National Palace, allowed the president to exchange views with the students located in the four zones under New York jurisdiction: New Jersey, Colorado, Pennsylvania, and New York.
Medina urged Alice B. Banks, Esmeralda Adriana Santiago, Félix Alexander Mejía Ortiz, Jhelibanny Paloma Martínez Rodríguez, Cismary Altagracia Tavárez Mercado, Luis Dewris Quezada, and Michael Espinal Brito to move forward in the studies to enlarge the Dominican Republic. 
The students shared their experiences and anecdotes in the city, which were listened to attentively and enthusiastically by the President.
Meanwhile, the consul in New York, Carlos Castillo, explained that the Meritorious Students program of children of Dominicans is marking their 22nd anniversary in the Big Apple. 
The initiative emerged in 1997 and this year has broken a record with 548 worthy students.
Castillo said they selected 10 meritorious students to visit Medina, "because as we all know, the President is the father of Education here in the Dominican Republic, with the campaign of Educational Revolution."
Young graduates this year of high school will enter the universities, thanks to a half scholarship.
"It is an aid to the Dominican diaspora that contributes so much to the Gross Domestic Product with the sending of its remittances," said Castillo.