Soldiers sent to Iraq still have not received compensation by Armed Forces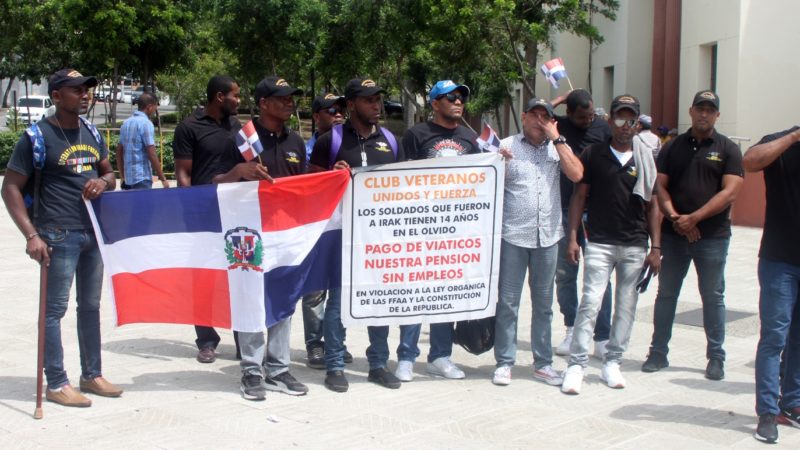 War veteran of the Dominincan Republic protests in front of the palace of the presidency for their claims of their work benefits for and the benefits and recognitions promised and that they have never fulfilled for providing service in the Iraq war in photo: Antonio Martínez. TODAY Duany Nuñez 7-15-2019
Soldiers sent to the Iraq war showed their outrage yesterday in the form of protest in front of the National Palace. To date, they have not received what the Armed Forces promised them 14 years ago, such as decent housing, payment of per diem, exemptions.
 Former Deputy Mario Polanco Medina, who is vice president of the veteran's club, explained the 640 soldiers of Task Force Quisqueya I and II, feel helpless as they were offered claims, such as psychiatric help to many of their members, but since the Hipólito Mejía government to date, no senior officer attends to them.
Two years ago the elite group of agents consisting of police, air, sea, and army, had submitted a letter to the Ministry of the Armed Forces and the National Palace, Vice Minister Alejandrina Liriano. The letter addresses their needs and promises among them that there is also the resumption of decree 235-16, with which only 280 welders of the 324 who should have been awarded were decorated. "These are things that were promised to us and that we are guaranteed by the constitutional law of the Armed Forces." 
He explained that many need urgent psychiatric help, as is the case of former Corporal Rivas Rodríguez, who is in the hospital unit of the Central Hospital of the Armed Forces, made a crisis, so he was expelled for "misconduct" and is now abandoned.
Former sergeant Mario Polanco Medina says that in 2005, the current director of the National Research Department (DNI), Sigfrido Pared Pérez (then Secretary of the Armed Forces), made a payment and promised to give in two games remaining, but it was never done. 
"Now there are generals who want to call us 'mercenaries' because we come to say that we should get paid," he said angrily. He added that everyone who makes the claim has been arbitrarily canceled. "We want a response from President Danilo Medina. The active military person who joins this fight is immediately canceled." 
He says that this adds to a series of obstacles and delaying tactics to obtain the documentation that supports the services provided abroad, which is frustrating.
He said the feeling of scam and the situation of scarcity has led some to the brink of madness. "They are trying to make us commit acts outside our right mind or as dictated by good customs. Hopefully, we don't get there," he said optimistically.